Events
CUFCA Annual General Meeting 2019
February 21, 2019 to February 22, 2019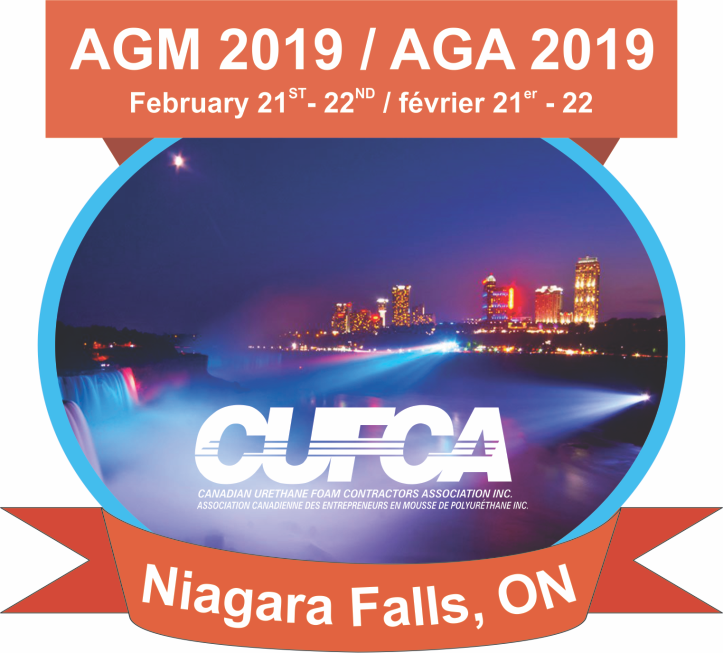 The 2019 CUFCA Annual General Meeting will be held in Niagara Falls, ON on February 21 & 22, 2019.
There will be an evening reception and presentation on Thursday Feb 21, 2019 with the AGM meeting continuing on Friday Feb 22, 2019.
Location:
Marriott on the Falls
6755 Fallsview Blvd.
Niagara Falls, ON L2G 3W7
P: 905-374-1077
www.marriottonthefalls.com
More details will continue to be added as they become available
-----------------------------------------------------------------------------------------
CALL FOR NOMINATIONS:
CUFCA is seeking committed individuals to serve on our Board of Directors. In accordance with the Bylaws of the Canadian Urethane Foam Contractors Association, nominations for membership to the Board of Directors may be made by any member in good standing for the Annual General Meeting to be held on Thursday February 21 and Friday February 22, 2019 in Niagara Falls, ON
TO NOMINATE:
Please file a formal nomination declaration prior to the Annual General Meeting, signed by three members in good standing as nominators and signed by the candidate for election who is also in good standing with CUFCA.
Please send completed nomination forms to the CUFCA National Head Office by fax to 1-877-416-3626. We will confirm receipt. CUFCA board members serve three-year terms.